Eagle Mountain Access Control System Installations & Repairs Provider
Are you currently operating your business in the Eagle Mountain area? Our company can assist you if you need to have your access control system repaired or installed. For over 15 years, Utah Access Control has been providing competent and affordable services for those that need security systems. From alarm systems to keypad access systems, we can assist any company in the Eagle Mountain area. Here is an overview of why any company can benefit from installing an access control system.
How Access Control Systems Work
Access control systems are very easy to install. They are one of the most efficient ways to monitor people at your business. There will always be different rooms and areas within your building that are accessible to only specific numbers of people. You can limit access by installing an access control system that uses either a keypad or key card system.
Each employee will have a specific number associated with them. That number, or the key card you provide, will be accessible through a control panel. This will allow the system operator to grant access to those with each number.
If you have one installed, yet it is not functioning properly, our business can resolve these issues for you.
Different Types Of Access Control Systems
Most of these systems are divided up into one of three categories. This will include role-based access control, discretionary access control, and what is called mandatory access control levels. Role-based access control is not discretionary at all. You are simply signing certain levels of access to each individual. Discretionary access control is based on specific rules you create within the systems. Each employee will be granted access to specific areas subject to the determination of those controlling the system. Mandatory access control systems are designed for those who want the strictest protocols. Security labels are assigned to each and every employee based on low, medium, and high classifications. Our company can assist you if you need to have this installed or repaired. It's also a good idea to incorporate other forms of security along with your access control systems.
Additional Forms Of Security You May Want To Use
The primary purpose of access control systems is to monitor the activities of employees, and even visitors, that come into your place of business. However, you may not be able to see these individuals unless you have a video security system installed as well. CCTV cameras have been used for decades. These are monitored by individuals at one specific location.
If you are constantly recording, you can use that footage in conjunction with when they utilized their access control, if you need to know what someone was doing. Electronic locks and intercoms should also be used in conjunction with your video surveillance systems.
Electronic Locks And Intercom Systems
Prior to the advent of access control systems, people were given access to specific areas by giving them keys. There would be individual keys for different rooms, and even master keys which would grant access to every area of your building with one single key. However, it is now possible to control whether doors are locked or unlocked remotely using electronic locks.
By pressing a button, or with the click of a mouse, you can lock and unlock some or all of your doors instantly. Before doing so, you may want to speak with the individual that is trying to gain access.
This is where intercom systems come in. These are often placed where access control panels are located such as keypads or key card systems.
When working together, your access control system, along with videos, the intercom, and an electronic lock system can make it easier to grant or deny access. All of this should be connected to an alarm system as well to provide you with the highest level of protection.
Alarm Systems And Access Control Systems
Once you have everything in place, you are alarm system should be activated. It should be directly connected to your access control system. In the event that someone is trying to get into your facility without authorization, the alarm can be activated right away. Depending upon the type of alarm system you are using, you may be able to alert nearby authorities assist you with the problem.
While you are waiting, you can use your access control system to lock all existing doors. Your video surveillance system will monitor and record the intruders, which can also be useful. To repair any of this, or to install these systems, Utah Access Control will be there to help.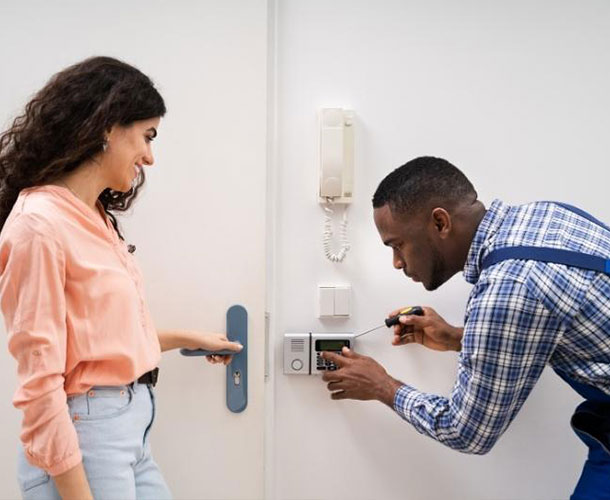 Why You Should Contact Utah Access Control
If your business is in the Eagle Mountain area, our company will be able to assist you. We specialize in installing and repairing affordable access control systems. Our business has more than 15 years of experience in this industry. We understand how to install and repair access control systems of any size and type. Likewise, we also specialize in other areas of security protection. This will include working with electronic locks, keypad access, alarm systems, video surveillance systems, intercom systems, and CCTV security system as well. Our business can dispatch a licensed and insured employee to your location if you need repairs done. We are also bonded in the state of Utah. Regardless of what your problem is, or what you need to have installed, our company will be there to help every step of the way.
Having a fully functional security system at your place of business is vitally important. For companies that employ many individuals, keeping track of all of them is very important. Providing them with key card access to your facility can make it easy to monitor what is happening every day. Once you have installed an alarm system, electronic lock system, and video cameras, you will have everything that you need to keep your business secure and safe. Contact our business, Utah Access Control, today for additional information on the installation or repair of access control systems.
Get A Free Online Quote In Under 24 Hours
Call Or Text For a Free Quote